Top 20 Arijit Singh Songs | Video Songs Free Download

        

Part 1. Arijit Singh career

 

It was mentor Rajendra Prasad Hazari, who facilitates the musical career of Arijit Singh. On his advice, the talented singer left his hometown and the realm of classical Indian music to realize his ambitions in the contemporary music industry. His first try was at a musical reality show called Fame Gurukul telecasted in 2005. Arijit Singh was only 18 years then. Unfortunately, he failed to win the title due to audience poll elimination. 

 

Fortunately, in the course of this show, his talent was marked by the famed film producer Sanjay Leela Bhansali. He signed Arijit Singh for a track called "Yun Shabnaaami" in the film Saawariya. In the course of the production, the script altered, and forcibly the song had to be dropped without being ever released. On conclusion of the Fame Gurukul, the head of the Tips Kumar Taurani got him signed for an album. Misfortune again struck him as the album failed to release. 

 

However, Arijit Singh was relentless in his pursuit as he took part in a popular reality show called 10 Ke 10 Le Gaye Dil. This time he successfully clinched the title and the winner's prize amount of INR 1 million. With this prize money, he set up his recording studio. Thus, for quite a while, he served in music production and spent his time in music composition and rendered his voice for singing in advertisements, radio stations, and news channels.     

 

Part 2. Arijit Singh best 20 songs list

 

Kabira: It is undoubtedly one of the most emotional songs that Bollywood has ever produced. It belongs to the movie "Yeh Jawaani Hai Deewani." The song featured Ranbir Kapoor and Deepika Padukone. Their chemistry made the song a great pleasure to the ears and eyes too. 

 

Tum Hi Ho

This song was a blockbuster hit from the movie Ashiqui 2. It rendered much-needed impetus to Arijit Singh's career as a playback singer. 

 

Fir Lay Aya Dill 

It is a rare combination of a great song featuring a great movie. Hailing to the movie "Barfi," the picture starred Priyanka Chopra and Ranbir Singh. The film widely applauded by millions throughout the world.

 

Illahi

This song is indeed one of a kind. A popular number from the movie "Yeh Jawaani Hai Deewani" this song will certainly rejuvenate anyone. 

 

Duaa 

If you want to hear a song that will mesmerize you, then surely, this is one of them. What adds magic to the song is the variation of the pitch in Arijit's voice. It belongs to the movie Shanghai.

 

Khamoshiyan 

Belonging to the movie "Khamoshiyaaan," it is a great number and undisputedly one of the best compositions in the Bollywood industry. 

 

Muskuraane

It is indeed a delightful song from the movie "City Lights." An example of a picture-perfect song in a breathtaking movie.

 

Raabta

This song will find its place on the list of all-time bests produced in Bollywood. It belongs to the movie "Agent Vinod." Arijit Singh's voice in this number reaches a new level of excellence, although there are other unplugged versions.

 

Uska Hi Banana

It belongs to the film "1920- Evil Returns". Very few are aware of the fact that this number was the first in which Arijit Singh gave his voice as a playback singer. 

 

Love Me Thoda Aur 

Bollywood, in contemporary times, can never think of love songs without Arijit Singh's melodious voice. It is a beautiful song from the movie "Yaariyan."

 

Channa Mereya

Belonging to the movie "Ae Dil Hae Mushkil," this song set a new benchmark of excellence in Bollywood. It is indeed one of the favorites of millions.

 

Laal Ishq   

The lyrics of the song and the melodious voice of Arijit Singh create a musical treat for your ears. It belongs to the movie "Ram Leela."

 

Soch Na Sake

It is a beautiful song from the movie "Airlift." The melody of this song is indeed awesome. 

 

Main Rang Sharbaton Ka

Belonging to the movie "Phata Poster Nikla Hero," this love comedy film featured Shahid Kapoor.

 

Baatein Ye Kabhi Na

It is a beautiful number from the movie "Khamoshiyan." The song is indeed soulful, and it was on everyone's lips when it was released in the market. 

 

Humdard

The one word that can give a befitting expression to this song is awesome. Coming from the movie "Ek Villain," it had a great impact on the listeners. This song has made Arijit even more famous. 

 

Naina Ashq Na Ho 

Hailing from Akshay Kumar starrer picture "Holiday –A soldier is never off Duty," it is a song that resonates with emotion and pays tribute to the soldiers out there on the borders. 

 

Ae Dil Hae Mushkil

It is an emotional and soulful song from the movie "Ae Dil Hae Mushkil." The song became a huge hit when the movie was released.   

 

O Soniye

Belonging to the movie "Titoo MBA," it is indeed a soulful song, but it has not been heard by many. You will surely love this romantic song. 

 

Agar Tum Saath Ho

It is an emotional track from the movie 'Tamasha' that you will love to hear, particularly if you have experienced the pinch of a broken heart. 

 

Part 3. Great Albums of Arijit Singh

 

Tujhe Kitna chahne lage: 

This song is from the movie 'Kabir Singh.' Arijit Singh is the singer of this song. This film is based on the story of a surgeon who chooses the way of self-destruction after the marriage of his lover with someone else.

 

Ghungroo: 

This song is from the movie 'War.' You can see Hrithik Roshan and Tiger Shroff in this movie. The song is sung by Arijit Singh. The movie was released in 2019.

Tu Hi Yaar Mera: 

This song was sung by Arijit Singh, Neha Kakkar, and Rochak. This is from the movie 'Pati Patni or Wo.' Mudassar Azis has directed this video, and Kumaar has written the music lyrics.

Raakh: 

This song is from the movie 'Shubh Mangal Zyada Saavdhan.' It was released on 27 February 2020. Tanishk has given the music to this song, and Vayu has written the lyrics.

 

Dil na Jaaneya:

 This song is from the movie 'Good Newwz.' You can see Akshay Kumar, Karina Kapoor, in this song. It was released in 2019.

Pal pal dil ke paas: 

This is a romantic song from the film 'pal pal dil ke paas.' The music composer of this song is Sachet Parampara, and Arijit Singh sings the song.

 

Main Bhi Nhi soya: 

This song is from the movie 'Student of the year 2'. Anvita Dutt has written this song, and Arijit Singh is the singer of this romantic song. Vishal and Shekhar have composed this song.

Shayad: 

This song is from the movie 'Love Aaj Kal.' It was released in 2019. Arijit Singh and Pritam Chakraborty have sung this song.

Part 4. Arijit Singh won awards.

 

Best Male Playback Singer Filmfare Awards

In 2014 for the song 'Tum hi ho' from the film 'Ashiqui 2'.

In 2017 for the song 'Ae Dil Hai Mushkil' and 'Sooraj Dooba Hain' from the movie 'Ae Dil Hai Mushkil' and 'Roy', respectively.

In 2018 for the song 'Roke Na Ruke Naina' from the movie 'Badrinath Ki Dulhania'.

In 2019 for the song 'Ae Watan' from the movie 'Raazi'.

In 2020 for the song 'Kalank' from the movie 'Kalank'

 

Best Male Playback Singer Filmfare Awards East

 

Arijit Singh won this award in 2014 for the song 'Mon Majhi Re' from the movie 'Boss'. He was nominated in 2017 and 2018 for the same award.

 

Best Male Playback Singer GIMA Award
In 2014, in the category of best male playback singer for the song 'Tum Hi Ho' from the movie 'Ashiqui 2'.
In 2015, in the category of the best playback singer male for the song 'Muskurane' from the movie 'City Lights'.
In 2015, in the category of Best Duet for the song 'Samjhawan' with Shreya Ghoshal from the movie 'Humpti Sharma ki Dulhania'.
In 2016, in the category of the Best Duet for the song 'Soch Na Sake' with Tulsi Kumar from the movie 'Airlift'.
Part 5. Download Arijit Singh songs mp3 / mp4 on Mobile
Vidmate is a suitable match for you if you are a big fan of Arijit Singh. Never miss a chance of downloading all songs of your favorite singer. This app allows you to do so without any charge. Vidmate has millions of users all over the world, and its fans love to download music, videos, TV shows, and many more through this app. We also allow you to keep any of your favorite music as your Whatsapp status. So, don't waste more time, stream online your favorite singer songs, or download them to watch offline, the choice is yours!
How to do this? Let's have a look.
Step 1: Download the Vidmate app from the official website and open it.
Step 2: Type the song you want to listen to or type the name of the singer.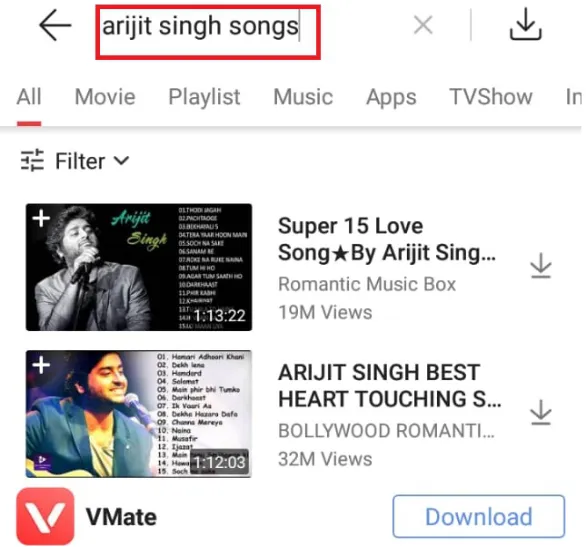 Step 3: You will get a list of songs, pick the one you like the most.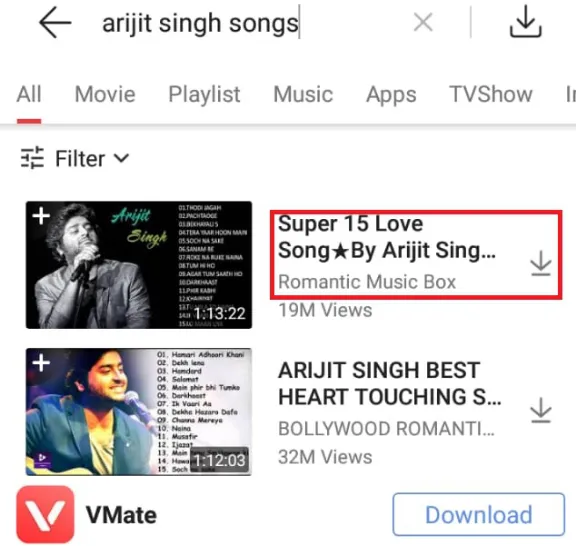 Step 4: Click on the download option, as shown in the screenshot.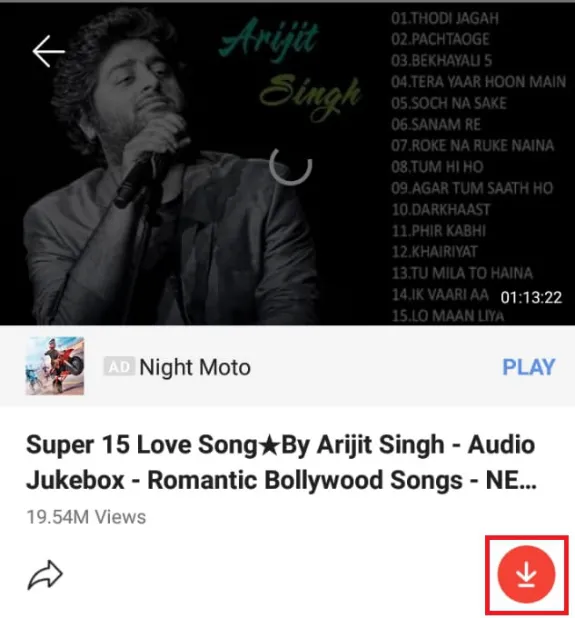 Step 5: Again, click on the download option after choosing the suitable pixel option.